Crystal King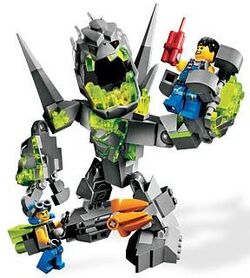 Appearances
Crystal King is the king of the Crystal Rock Monster Sulfurix from the Power Miners theme. He also controls the Throwing Rock Monsters, who are his personal bodyguards. He is also known as Rockrage, as seen on a LEGO.com Bio, although this page has been edited, with all previous notations of Rockrage being replaced with Crystal King. It is unknown if he controls all the Rock Monsters, or only the Sulfurix. The Crystal King is actually it's own set which came out in 2009.
LEGO.com Description
Edit
Thousands of years old and glowing with the energy of all the crystals he's devoured over the centuries, Crystal King is the ultimate, undisputed ruler of the Sulfurix. His size and strength are unrivaled by any known rock monster, and he just keeps getting bigger and stronger as he gets older.
Accessories
Edit