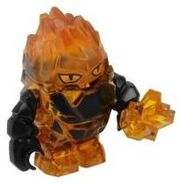 There are 2 types of Lava Monsters:
The Lava Monsters from Rock Raiders, which were not released in the sets. They are identical to Rock Monsters except they are red. They can be seen in Rock Raiders books.
The Lava Monsters that the Power Miners face in 2010 are super-heated versions of Rock Monsters, and are the main enemy of the Power Miners in 2010.
There are 3 types of Lava Monsters from the Power Miners theme:
There is also one Throwing Lava Monster named Eruptorr, who is also from the 2010 Power Miners theme.
Accessories
Edit