Rex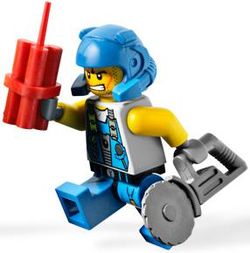 Appearances
Rex is the engineer of the Power Miners Team. He made most of the team's machines for they're various missions. He also appears as a Lava Suit Miner in 2010 as well as appearing in his regular suit in the Claw Digger in 2010.
LEGO.com Description
Edit
A top engineer, Rex was working on a project to build a giant geo-thermal power station in the Earth's core when Doc's call came. He designed most of the Power Miners' vehicles and has a constant rivalry with Firox, who has delight in sabotaging his machines.
Accessories
Edit